Date: 2018-12-07 03:25:34, Source: sdchina.com, Today/Total Visits : 1/316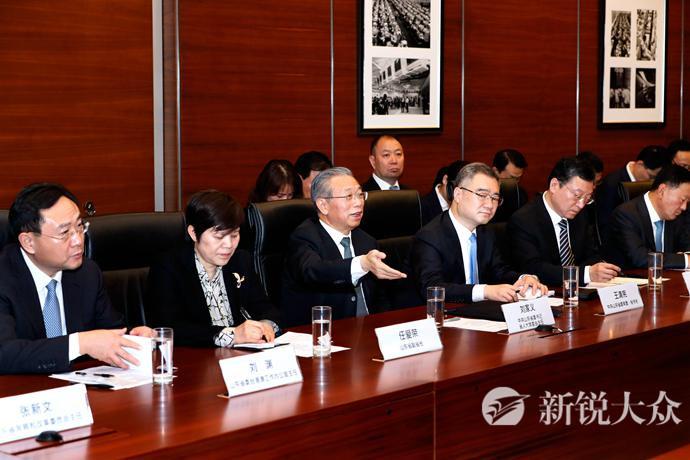 Shandong-Hong Kong Financial Cooperation Symposium kicked off in Hong Kong Exchanges and Clearing Limited (HKEX) on December 4th, 2018. Liu Jiayi, Party Chief of Shandong and Mao Zhirong, Managing Director of HKEX attended and addressed the symposium.
The symposium was held in a relaxed and warm atmosphere. Attendees from different fields delivered their speech. They praised Shandong as an economy-developed province with well-grounded manufacture and numerous noted brands. The infinite vitality brought about by the ongoing transformation of driving forces would give birth to great cooperation potentials between Shandong and Hong Kong. They also said they look forward to further deepening cooperation with Shandong and reinforcing complementary advantages. They wish Shandong a brighter future. After listening to their speech carefully, Liu Jiayi had an in-depth discussion and communication with the attendees including entrepreneurs of Shandong enterprises listed in Hong Kong.
Liu said he was very glad to meet and communicate with Hong Kong financial elites. At present, Shandong is, in the light of the speeches and instructions made by President Xi Jinping during his visit in Shandong, firmly implementing the new development philosophy, deepening the supply-side structural reform, furthering the shift in development driving forces, constructing a powerful province of marine economy, establishing a Qilu model of rural revitalization and building a new highland of opening up to be poised for the high-quality development. Shandong is developing rapidly and improving constantly in financial market, who needs more help from HKEX in cultivating financial and capital market. The two sides will conduct many kinds of exchanges and cooperation, and support qualified and promising Shandong enterprises to go public in Hong Kong, as always, for their better development. "I'd like to welcome you to visit Shandong more often to experience the charm of Qilu culture, promote financial cooperation between Shandong and Hong Kong and share "Shandong opportunities".
Mao Zhirong briefed on the development of HKEX. He said that HKEX is an important financial platform and capital power for the development of the mainland. With the launch of Shanghai-Hong Kong Stock Connect and Shenzhen-Hong Kong Stock Connect, HKEX has actively strengthened cooperation with the mainland capital markets to better meet the needs of international and domestic investors. HKEX has been the first choice for mainland enterprises to be listed overseas said Mao. He expressed the hope that both sides will reinforce collaboration and exchanges and jointly push forward more companies from Shandong to go public in Hong Kong.
Wang Qingxian and Ren Airong also attended the symposium.